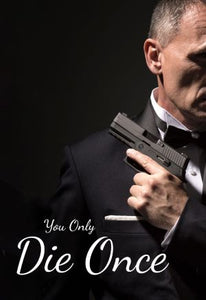 Encore The Show Business
You Only Die Once
Regular price
£28.99
£0.00
Unit price
per
Tax included.
You Only Die Once
The Cold War is over and the age of terrorism is dwindling.  Finally, after years of espionage and counter-espionage, the opposing groups have arranged talks to see if an agreement can be reached.
Tonight, in a top secret location in an expensive and exclusive hotel, selected evil masterminds and members of the various intelligence agencies have gathered for the first of these momentous talks.
However, before M can make any opening remarks, a body is discovered.  Roger Damsels, MI6's top secret agent, has had his license to kill terminated.  Permanently.
With such a mix of spies and villains within the walls, who had the most to gain?
THE SUSPECTS
Austin Martin – M's Chief of Staff. (Gender Neutral)
A brilliant mission analyst with a head for facts and figures, Austin is always seen in a smartly pressed and tailored business suit.
Kitty With-Claws – A pussycat you wouldn't want to mess with. (Female)
This well-dressed beauty is more than equipped to kill any would-be suitor.
Scaryminger – The man with the golden bum. (Male)
Living on a desert island, Scaryminger is always able to perfect his all-over tan, right down to his third nipple.
Cuttlefishy – More than a sweet distraction. (Female)
With floaty dresses and a serene expression, you could easily be mistaken into thinking Cuttlefishy was an easy catch.
Ernst FuzzyFelt- – The man with the white cat. (Male)
Despite his keen love of white felines, Ernst's dark suit never even carries a hair.
Cary Files – An ally at the CIA. (Gender Neutral)
When you need to call in the cavalry, Cary has weaponry and enough ammunition to sink a battleship.
Dr Yes – Or is it No?  Perhaps Undecided would be a better title.(Male)
On a rare appearance away from his tropical island, Dr Yes is simply a man in a suit, but one with a very dastardly plan.
Xenia Onabottom – A woman who knows how to take care of herself. (Female)
With fast cars, glitzy dresses and the ability to kill with her thighs, Xenia is a nice girl when you get to know her – honest!
Gold Thumb – The man with the Midas touch.(Male)
Dripping in gold accessories and expensive clothing, Gold Thumb probably carries more carat than cash.
Quadruple X – The Russian spy. (Female)
In either snow gear or flimsy Egyptian dresses, Quadruple X is still a force to be reckoned with.
---