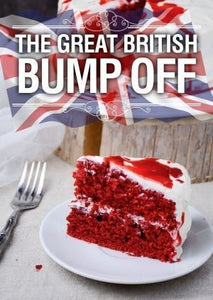 Encore The Show Business
The Great British Bump Off
Regular price
£22.99
£0.00
Unit price
per
Tax included.
THE GREAT BRITISH BUMP OFF
Tension is high inside the big white tent because it's time for this year's bakers to face judgment and elimination. But wait! Stop those timers! Our esteemed judge, Shaw G. Bottom has just been discovered dead in the judge's tent. The bread round just turned into the dead round.
THE SUSPECTS
6 PLAYERS
Victoria Sponge – A baker from the Isle of Wight. (Female)
Dressed in white with a slim red belt, Victoria is confident about her classic appeal.
Mac O' Roon – A baker from Belfast. (Male)
In his orange shirt, green trousers and with his golf bag to hand, Mac is a golfer who's ready to play the long game.
Devon Scones – A baker from Cornwall. (Gender-Neutral)
This handwriting expert is dressed in red and white – white on the bottom, red on the top.
Brandy Snap – A baker from Gloucestershire. (Female)
In her jodpurs and hacking jacket, Brandy knows how to hunt and how to win.
Kendall Mintcake – A baker from Cumbria. (Gender-Neutral)
This mountain climber is ready for any emergency, baking or otherwise!
Whitey Bloomer – A baker from Herefordshire. (Male)
Dressed in gardening clothes and wellies, Whitey knows the old ways are best.
---