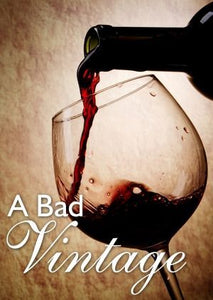 Encore The Show Business
A Bad Vintage
Regular price
£28.99
£0.00
Unit price
per
Tax included.
A Bad Vintage
The Grand Cru estate, situated on the fertile slopes of the Loire Valley in France, is a small family run vineyard with considerable rustic charm and appeal.
The owners of the estate, Max and Demi Liter, regularly host wine tasting evenings which allow their guests to sample the latest bottlings and place orders ahead of the big conglomerates.
Unfortunately for the guests this evening, the vintage had more body than they were expecting. Max Liter has been discovered dead in a vat of wine.
THE SUSPECTS
10 PLAYERS
Demi Liter – Wife of Max Liter. (Female)
In silk, satin or velvet, Demi is fond of luxury and is dressed, made-up and manicured to perfection in order to entertain her guests in style.
Byron Case – Wine merchant. (Male)
Respectable and presentable, Byron likes to dress smartly but is never in a suit, preferring a casual jacket and trousers to give an air of relaxed sophistication.
Cary Dover – Swiss bank manager. (Gender Neutral)
Punctual and with a very strict dress sense, Cary wears a smartly pressed suit and wouldn't dare have a hair out of place!
Nick Blagger – Retired rock star. (Male)
In faded jeans and ripped shirt, Nick regularly forgets to shave and just sort of hangs out, man…
Phillipa Delphia – Local cheesemaker. (Female)
Delicate and dizzy, Phillipa has a hiccupping laugh and likes her frills.
Jean Le'Carré – Retired Foreign Office minister. (Gender Neutral)
Sophistcated and aloof, Jean is always well dressed in custom fit clothing.
Lady Bla Bla – Celebrity singer and actress. (Female)
Whackily dressed Lady Bla Bla loves anything that shows off her fabulous figure.
Monty Carlo – Racing car driver. (Male)
In a leather-patched tweed jacket, racing goggles and silk scarf, Monty loves his vintage cars and knows all sorts of interesting facts about motoring.
Dr Karafe – Wine blender. (Male)
White coated and with a strangely Slavic accent, Dr. Karafe is a suave mixer.
Jilly Goodblend – Oenophile. (Female)
A wine critic with an eccentric style, Jilly is tremendously popular with the public, even if her caustic commentary has a tendency to offend the vineyard owners!
12 PLAYERS (10 above + 2 below)
Vinnie Dresser – Vineyard manager. (Male)
In dungarees and a checked shirt, Vinnie has come straight from the vineyards.
Honor Platter – Local delicatessen owner. (Female)
Never without samples, Honor is artistically dressed to compliment her haute cuisine.
---